Kemi Olunloyo, a Nigerian investigative journalist has posted a statement apologizing to the Indigenous People of Biafra and their leader Nnamdi Kanu.
In the statement released on Twitter, she explained where she must have got it wrong and what should have been done to avoid possible mistakes. She also pointed out some wrong moves from Nnamdi Kanu.
In the lengthy twenty-three-paragraph statement she went on to fault the federal government for proscribing the 'separatist group'.
Read the full statement below:
1.The Nigerian government needs to pay proper attention to national security regarding IPOB. When I was in Port Harcourt prison I discovered a lot that I have not spoken about. First I want to apologise for antagonizing IPOB & Kanu for 3 years.
2) #IPOBVictims I met many IPOB boys and girls in #PHMax and interviewed them. They were incarcerated because they took part in a separatist rally after Kanu was released from prison. I felt they were innocent and Kanu did not do enough to facilitate their release. He was fleeing
3) #IPOBVictims Many are still in prison because of this rally case. They told me that the Nigerian army killed a lot of them at that rally. Coming out of prison and investigating, I discovered it was genocide and notified amnesty. The army has repeatedly denied the killings.
4) Before the rally I waved a red flag warning IPOB that Buhari will make them a Terrorist group and that Journalists are not the ones to fight as we expose your plea. No media house touched IPOB stories in 2016 except HNNAfrica. Others deemed it too sensitive and it HAPPENED
5) #IPOBVictims After IPOB was proscribed as a Terrorist group by LATE Justice Abdul Karafati who by the way died of #Covid19 complications last night, I warned IPOB to stop displaying the behavior they are accused of. The herders crisis began then FFK and Fayose started tweeting
6) #IPOBVictims By 2018 I tweeted that the criminals were basically #BokoHaram rebranding as kidnappers & bandits. Of course nobody takes me seriously and I continued to analyze the situation wondering why this group were NOT PROSCRIBED as Terrorists too? Nobody took it seriously
7) #IPOBVictims In 2018 I went back on a trip to the men's side to visit the "IPOB boys" arrested since the bloody 2016 rally. I gave N40K in N200 bills (two stacks) to them in prison. They were happy as N50 is our food money. N200 is 4 days. Many were starving and dying there.
8) #IPOBVictims I am NOT a member of the mainstream media. Aso Rock wanted all media to refer to IPOB as a terror group. They were PROSCRIBED and the mainstream media was encouraged to portray them as hardened criminals. When the killer herders were completely ignored, I focused
9) In 2019 after consulting with several lawyers, I discovered that MANY "IPOB boys" in #PHMax had been DENIED BAIL since 2016. 3 of the ones I knew died of malnutrition. I sent N200K to a trusted lawyer who perfected bails of 10 inmates who had N20K bails. I stayed anonymous
10) #IPOBVictims A judge can deny anyone bail deeming them a danger to society, however I noticed other terrorist groups were getting amnesty and repentance gifts. I kept tweeting Buhari to free all the IPOB boys in #PHMax. Kanu's fans were too busy with abusing me to notice.
11) I tweeted Buhari on why are we giving terror groups amnesty and not the IPOB boys in prison we could retrain. All I saw in prison were young Igbo boys 18-25 who had no idea that they will be drawn into political activism conflict with a Dictatorship government. #IPOBVictims
12) My only beef with Kanu's group outside prison was that their aggressiveness made it difficult for those behind bars to go home. Back to Amnesty International. Many Nigerians ignored the SARS agitation killings. IPOB members were killed! Way more than 12 estimate 32 KILLED
13) #IPOBVictims The focus was not there. Kanu led the group astray, the Facebook show and the alleged death of Buhari took focus away from the goal. He met with Sowore on solutions for Nigeria then Yele was suddenly arrested too. I criticized Kanu on approach, discussed with FFK
14) #IPOBvictims Kanu continued to lose focus urging his fans to call me onye ara, ashawo and deface my Facebook page hurling abuses. Facebook started to blacklist him. Today his page is disabled because of a lot of Community Standards rules broken. Meanwhile he fled Nigeria
15) #IPOBVictims After jumping bail he totally forgot his supporters in #PHMax and those the killer army ended their lives. Kanu should have sped to the ICC. We the REAL journalists saw the evidence of genocide/massacre. I journaled EVERYTHING as an Investigative Journalist.
16) 87 videos, 227 photos exactly like #LekkiMassacre. Why wasn't Nigeria talking? Becos IPOB was quickly proscribed as a Terror group. Kanu didn't fight the proscription. He kept making propaganda videos losing focus. Buhari's army committed atrocities a year after his win 2016
17) Buhari blocked Kanu's moves to the ICC when he was finally advised secretly by several activist groups. Buhari became paddy with every judge at the ICC when he should be a subject of investigation. Even Judge Osuji came to ASO ROCK to visit Buhari so they can clean his image
18) #IPOBVictims IPOB kept abusing me but did not see why Buhari showed up at the ICC. Instead of filing major atrocity cases, Nnamdi Kanu led his people thru brainwashing AND OTHER Nigerians that Buhari was DEAD!Now showing up at ICC the world did not take IPOB serious anymore
19) #IPOBVictims Now the media manipulation and how powerful Journalists are. Who was the white reporter Eric Joyce that tweeted that Buhari was dead 2017 and why did Dr Olunloyo say that Kanu may well be dead but she could not confirm it at first? The media can make or break U
FFK contacted me telling me that Kanu was alive and he just finished speaking to him some days ago. I kept investigating until a top source at DSS said "they tried to manipulate me as an independent Journalist as Kanu faked his own death" so as to sneak back into Nigeria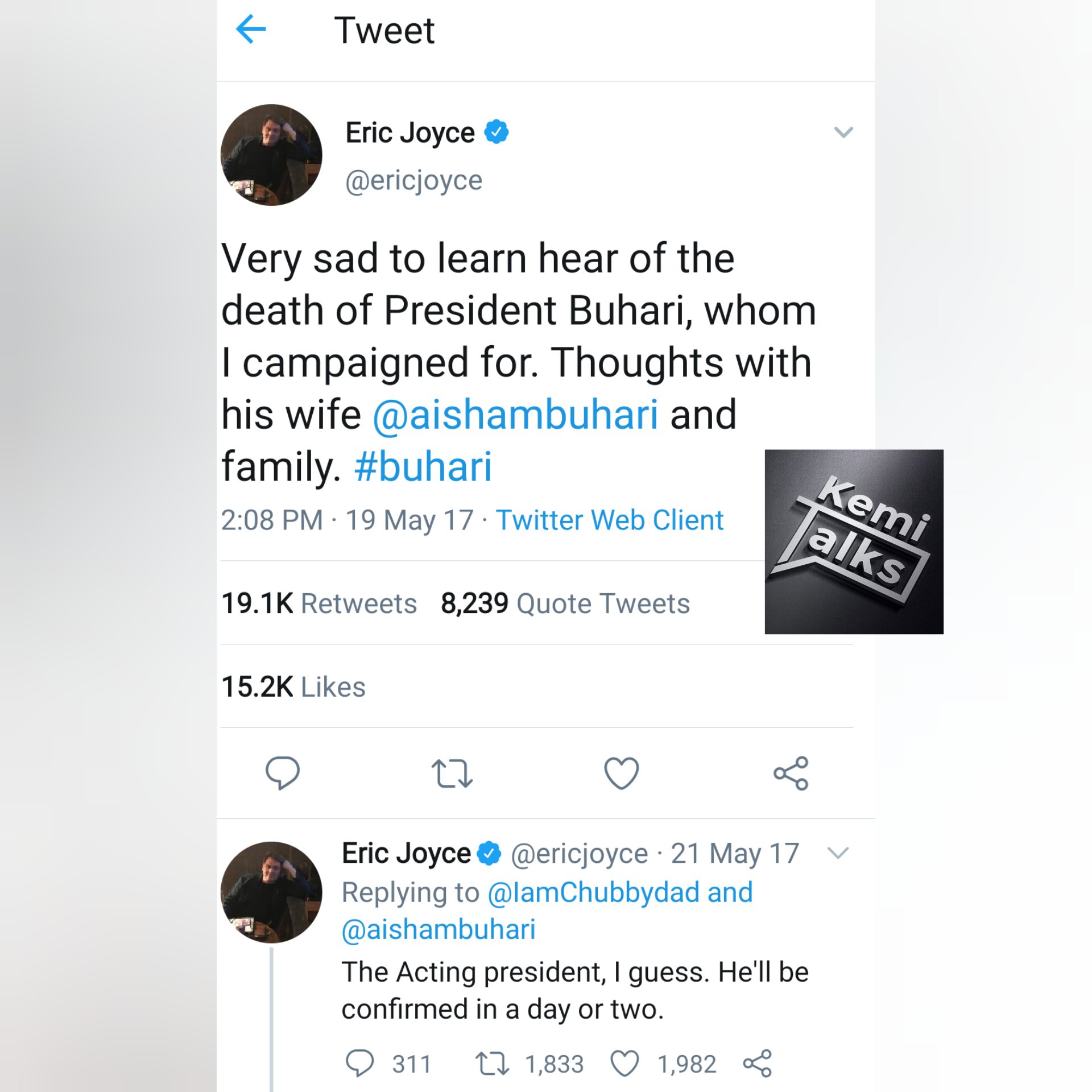 20)#IPOBVictims After DSS source told me Kanu wasn't dead but tried to fake his own death to sneak in Nigeria, I was pissed as I vowed never to b used by anyone manipulating news again after Iyabo Ojo/Ibiyeomie when I got a fake newstip that got me detained 6 mos/3 arrests doing my job
21) Concluding my investigation Buhari and Kanu are both alive. Kanu needs to focus on the bigger picture. He needs to reorganize IPOB and remove the terrorist proscription, he needs to get justice for the dead. The SARS IPOB PROTESTERS and The rally genocide and ESN casualties.
22) #IPOBVictims In my full opinion, IPOB is a full blown separatist group AND NOT A TERRORIST GROUP and they are victims of Buhari's govt since day one. Buhari and every military leader played a big part in the Biafran war. The ICC was not created yet. We must educate the kids.
23) I apologise as a Journalist for calling IPOB a terror group as their PROSCRIPTION IS FAKE
I refuse to push the media agenda in the MSM as I'm independent and do my own thing. If bandits and killer herders are not Terrorists, who is? To Nnamdi Kanu and IPOB, I'm sorry