Read her statement below:
THREAD
1. The bad news last night was my final straw. I did a live video I will soon post on YouTube. After 11 yrs on my @Facebook verified page 3/16/09 and 3 yrs
@instagram 9/16/17 both @Kemiolunloyo
I DELETED both pages last night. 6 million reach over 600K fans combined.
2. @Facebook company who owns @instagram and @WhatsApp have continued to FAIL me and other public figures in handling HATE and misinformation. I'm not an entertainer. I am a Broadcast Journalist. Journalists bring news and information to society not allow themselves to be attacked
3. I knew this day was coming so I carefully chose the anniversary September 16th of my opening those pages. I deleted WhatsApp December 2019 and promised to return on my birthday in 2020 which I did. Many of my news stories were filled with hateful comments at me which was obvious.
4. I therefore decided to join the likes of @KanyeWest who deleted his Instagram 5 days after opening it and @justinbieber who went off for several months. I will not subject myself to social attacks, threats and disrespect anymore. I sell news. Many of you can get it elsewhere
5. I have poor Social skills but an intelligent fast brain due to my Autistic condition called Asperger's syndrome. It has allowed me to be more Intelligent than the average person. I spread that knowledge and feel I have given back to youth enough. I no longer need those platforms.
6. It got to a point that I will make a post on FB and IG and people felt the need to comment attack words for no reason. I was called every kind of name because I'm posting news, views and opinions which the platforms had not censored and Nigerians just HATED me? Screenshots below.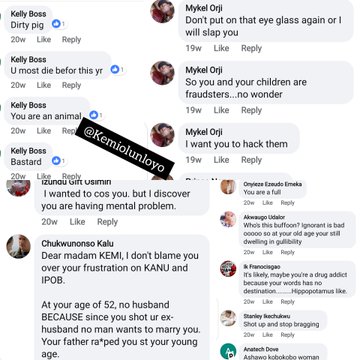 7. On that note I will announce to my fans to follow me on @Snapchat which I will begin using @KemiOlunloyo, tell @verified to re-AUTHENTICATE this my Twitter account and also Subscribe to my http://youtube.com/Kemitalksgist Community and my blog http://kemitalks.com
8. To all my fans on Facebook and Instagram the platforms told me I can reactivate within a year if I change my mind. I will NOT return even if they change their Community Standards. @Twittersafety has restricted who can comment due to abuse and several new platforms and topics
9. Finally to everyone who advertised on my Instagram account especially @tadfarms_ng THANK you. Our brand partnership continues here and the blog. To all the loyal fans on @Facebook@instagram thank you for the memories. To @DaddyFRZ who I warned this day was coming, it's here
10. I will resume automated monetized news tweets here after 3 years. Pls read the links and enjoy my content. I will also be monitoring my Artists @Richkjtmusic my son and @iamwealth9ja who's very new to Twitter. Follow their music. They have more crowd on Instagram. Thanks everyone
11. Along with all what I go through as a Journalist, then you have those who brand me with fake news and companies who add to that like Megachicken restaurant who called my work brand "Yellow Journalism" creating an atmosphere for people to degrade and drag me on their platforms.
12. Here are other Celebrities who are boycotting Instagram on this HATE and misinformation issue. Thank you everyone. Hopefully I can get my life back as a Journalist and not a socialist. #drkemiolunloyo #Kemitalks